ALAN-IT was recognized as a member of ALRII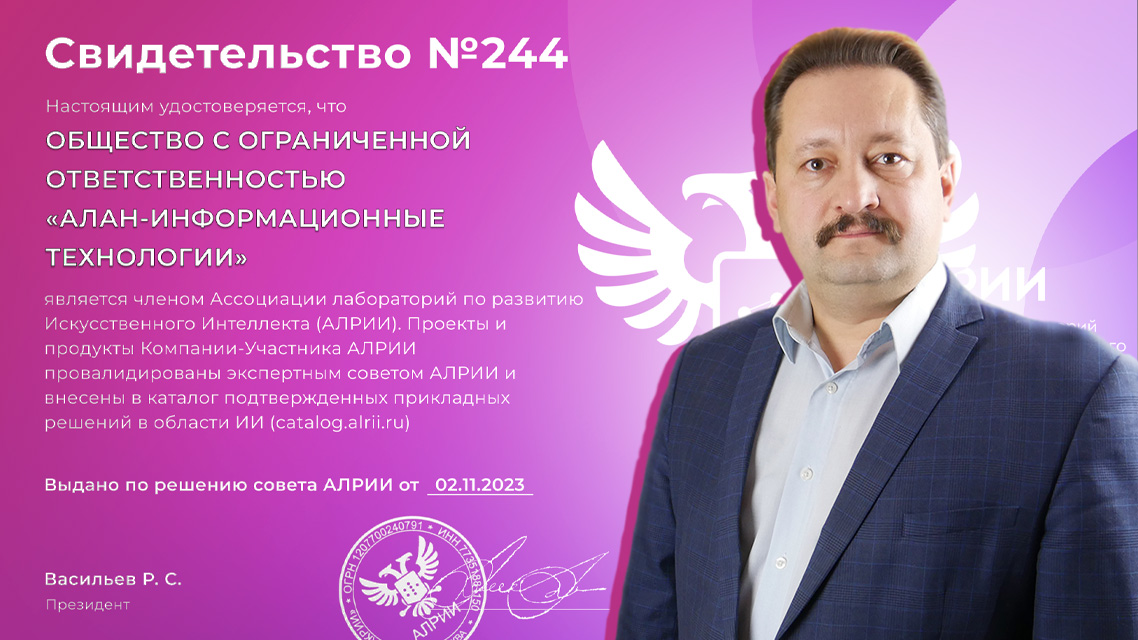 The Association of Laboratories for the Development of Artificial Intelligence (ALRII) is the largest association for the development of artificial intelligence (AI) in the CIS, which includes more than 200 companies. Its activities are aimed at consolidating market participants, sharing experience, representing the interests of the community in federal and regional government agencies of the Russian Federation, open access to pilots and best practices of implementing AI-based solutions, as well as organizing and conducting various industry events - forums, stratsessions, lectures and hackathons. Among the association members are such companies as VS Robotics, Algomost, Tsifrum (an enterprise of Rosatom State Corporation), BSL, Cleverbots, IRCE and others.
On November 2, 2023, by the decision of the ALRII Council, ALAN-Information Technologies Limited Liability Company became a member of the Association of Artificial Intelligence Development Laboratories. The issued certificate confirms that the projects and products of ALAN-IT have been approved by the ALRII Expert Council and entered into the catalog of confirmed applied solutions in the field of AI.
Inclusion of ALAN-IT in this list is a recognition of the value of the company's developments and will allow more potential users to learn about our services that use AI in their work. For example, solutions based on artificial intelligence are used in the Predictive Analytics module of the Business Scanner service, in the ALAN IoT Application web application, and in predicting reproduction, milk yield and disease levels in Dairy Production Analytics (DPA), a digital twin of the dairy complex.